Top Rated Local® Accident Injury Treatment
Chiropractic Conditions We Treat in Mesa
An experienced team you can count on for personalized treatment
Choose The Chiropractic Team You Can Trust
When you are looking for a chiropractor in Mesa, you want to find someone you know you can trust. Whether you are suffering from pain related to a recent car accident or you have a chronic issue that won't seem to go away, we are here to help. Our chiropractic team is experienced with an array of treatments and we will work with you to personalize the right plan for your body's unique needs. Book an appointment today and find relief from pain.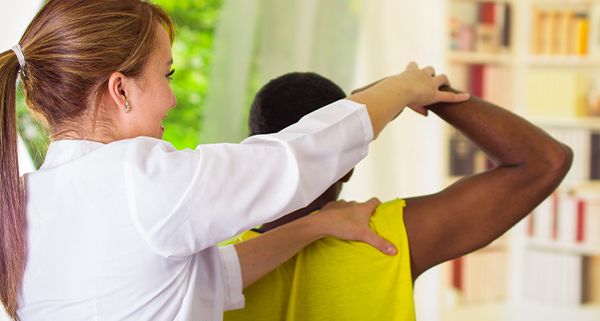 Why Choose Us?
• Experienced chiropractic care and exercise rehabilitation
• Customized treatment plan
• Certified acupuncturist, physiotherapist, and chiropractor on staff
• Years of combined experience in the chiropractic field
Here at Accident Chiropractic, our doctors along with our trained staff, offer a range of chiropractic services in Mesa extending from accident injury treatment, chiropractic adjustment, pain management, along with exercise rehabilitation. Whether you are visiting us due to a recent car wreck or you have ongoing back pain you need help combatting, we will work with you to determine the root cause of the issue. This allows us to tailor fit a chiropractic care plan for your body's specific needs.
We provide our patients with the highest quality and most comprehensive chiropractic care available designed to fit your individual healthcare needs. Our goal is to get you back to optimal health and enjoying your life. Each of our doctors brings years of experience to the table and their own specific focus in chiropractic care. They utilize this experience to cover every base. When it comes to aches, pains, and injuries, our doctors have seen it all and know how to find the treatment plan that will best suit your needs.
When you visit our team, you can expect to be treated with respect and for your concerns to be heard. We know how difficult it can be when you face ongoing, chronic pain and we want to help you find a resolution. Our goal is to provide long-term solutions, rather than temporary fixes. Whether this is your first time visiting a chiropractor or you have been in before, we will always provide you with the care we ourselves would hope to receive. Book an appointment today and find out what sets us apart in the world of chiropractic care.
Each day, millions of patients choose chiropractic care over drugs or surgery as a common sense approach to better health. Here at Accident Chiropractic, we offer complete chiropractic care to help restore you back to optimal health. We offer a wide range of services from physiotherapy, hands-on adjustments, activator adjustments, myofascial release techniques, x-rays, and massage. If you feel that you have a problem that requires chiropractic care, please call our office to setup an appointment.
Therapies like meridian therapy and acupuncture may be alternative approaches to traditional medicine for a variety of cases. The World Health Organization and the National Institute of Health recognize the ability of acupuncture to benefit the following conditions: headaches, neck pain, back pain, sciatica, arthritis, tennis elbow, fibromyalgia, myofascial pain, carpal tunnel syndrome, and asthma.
Without the muscles, tendons, and ligaments of your body, you would collapse like a rag doll. Without some form of rehabilitation, recovery from an injury or a long-standing spinal problem can take longer to achieve. Overlooking the importance of improved range of motion and muscle strengthening can result in a relapse, with the original health problem returning again and again. Rehabilitation involves the restoration of proper joint function of the spine or extremities, and the strengthening of supporting muscles and soft tissues. This involves a program of stretching, resistance training, and exercises to improve muscle tone.
If you are unsure if chiropractic care can help your condition, we offer a FREE chiropractic consultation. All you need to do is call and we'll assist you with everything you need from pain management to chiropractic adjustment.