Top Rated Local® Accident Injury Treatment
Chiropractic Care: An All-Natural Alternative To Surgery
No one enjoys being in pain. When you're in pain, your whole life can be affected, from the activities you choose to undertake (or, more often, don't undertake) to the quality of your sleep. Here at Accident Chiropractic in Mesa, our mission is to offer pain relief to our clients who are suffering from either acute pain (short-term pain) to chronic pain (long-term pain). By manipulating your bones, we can help realign those that are misplaced, relieving pain points and nerve pressure to help lessen your pain. We've invested in many different types of pain management tools, from massage and physical therapy to infrared and laser therapies, in order to customize your chiropractic treatment plan to yield the best results. If you are looking for a local pain management chiropractor, contact our accident chiropractor today!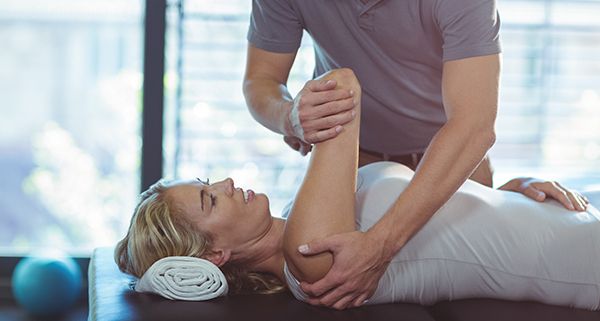 PAIN MANAGEMENT TOOLS WE UTILIZE IN MESA
Chiropractic manipulations
Acupuncture treatments
Infrared and laser therapies
Our Triton Decompression machine to stretch and relieve pressure and inflammation on your nerve
Massage therapy
Physical therapy
Medications if needed
Injections if needed
And so much more!
From Wikipedia, the free encyclopedia:
Pain management (also called pain medicine; algiatry) is a branch of medicine employing an interdisciplinary approach for easing the suffering and improving the quality of life of those living with pain.[1] The typical pain management team includes medical practitioners, clinical psychologists, physiotherapists, occupational therapists, and nurse practitioners.[2] Pain sometimes resolves promptly once the underlying trauma or pathology has healed, and is treated by one practitioner, with drugs such as analgesics and (occasionally) anxiolytics. Effective management of long term pain, however, frequently requires the coordinated efforts of the management team.[3]
Medicine treats injury and pathology to support and speed healing; treats distressing symptoms such as pain to relieve suffering during treatment and healing. When a painful injury or pathology is resistant to treatment and persists, when pain persists after the injury or pathology has healed, and when medical science cannot identify the cause of pain, the task of medicine is to relieve suffering. Treatment approaches to long term pain include pharmacologic measures, such as analgesics, tricyclic antidepressants and anticonvulsants, interventional procedures, physical therapy, physical exercise, application of ice and/or heat, and psychological measures, such as biofeedback and cognitive behavioral therapy.
Billions of dollars a year are lost due to loss of wages and worker productivity because of acute and chronic pain and the resulting stress and depression. Proper evaluation and treatment not only helps get patients on the road to recovery but enables businesses to be more productive and successful.
At Accident Chiropractic, we understand and care about your pain. Our caring doctors and staff strive to help our patients improve both physically and mentally. We want them to always feel like they are respected and cared about. We treat you as an individual human being and not just a number.
We know that each person experiences pain in their own unique way and not all treatments work for everyone the same. We examine and evaluate, and with you, we develop a treatment plan especially for you. We monitor and take the time to listen to you as we help you manage, reduce or even eliminate your pain when possible. At Accident Chiropractic, we have a wide array of treatment options at our disposal and together we'll help you manage your pain and improve your quality of life.
Many have found relief and pain management through our chiropractic services, acupuncture treatment, as well as infrared and laser therapies. In house, we have our Triton Decompression machine to stretch and relieve pressure and inflammation on compressed spinal nerves enabling you to get relief and give your body a chance to begin the healing process. Different levels of massage therapy can also help bring relief. Our physical therapy department improves mobility and strength. We also can prescribe medications as well as injections to help control pain and closely monitor our patient's progress and adjust treatment accordingly.
If you are dealing with any type of pain from chronic back pain to whiplash or other symptoms you think chiropractic adjustment can help, please consider making an appointment with us so we may examine, evaluate, and discuss the many options available to you. We can make a difference!